St. George, the county seat of Washington County, is the largest of all the towns founded during the LDS Church's Cotton Mission of 1861. St. George, Utah is located in the southwest section of Utah at an elevation of 2,880 feet above sea level.
St. George has an average annual temperature of 59.9° F with summer temperatures well into the 100s and the average maximum winter temperature around 55° F.
The average annual rainfall for St. George is 8.30 inches, and the normal growing season is 196 days. All these factors make the St. George area a suitable location for the early settlement. Click here for more information about the history of St. George Utah.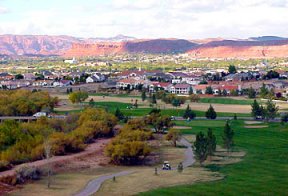 While planning your visit or relocation to St. George Utah, try our regional map for travel information in and around St. George.
Take a moment to peruse our gallery of images in and around St. George, Utah.