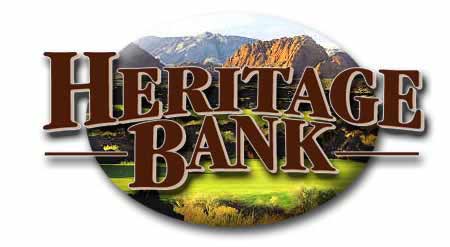 ABOUT US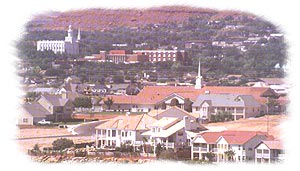 Heritage Bank was founded in 1917 in St George, Utah. In 1983, Heritage converted from mutual to local stock ownership. Throughout its history, Heritage has specialized in residential real estate finance for FHA, Conventional and Jumbo loans.
In contrast to the giant residential lenders and mortgage brokers, Heritage still knows its customers by name and maintains its 80-year tradition of personal service by originating, approving, and servicing all of its loans. Even with assets of approximately $460 million, Heritage has only one office. Its dedicated employees still consider the customers as friends and neighbors. If you appreciate personal service, superior products and competitive pricing, please give Heritage Bank a call at (435) 628-0433.
Location, Staff and Hours of Operation
Location: 95 East Tabernacle, 2nd Floor
St. George, Utah 84770
Hours: Monday - Friday 8:30am - 5:00 pm
Phone: (435) 628-0433
Fax: (435) 628-5638
Officers:
Brian D. Chadaz, President
Richard M. Mathis, Sr. Vice-President
Brad L. Hales, Sr. Vice-President & Treasurer
Dorothy H. Dobson, Vice-President & Secretary
Troy Lewis, Vice-President
Board of Directors:
Brent Beesley, Chairman & CEO
Alta S. Earl
Richard M. Mathis
C. Jeffery Morby
Rodney F. Savage
Bonnie Jean Beesley
Steven Harrop
COMMUNITY
St. George Area Profile
The St. George Area is known for its warm winter weather, beautiful red rock scenery and rich pioneer heritage. St. George and the surrounding area continue to be acclaimed as one of America's most desirable resort, recreation and retirement communities.
St. George lies in the high desert at an elevation of 2,800 feet. The climate is semi-arid with two separate rainfall seasons in the early spring and later summer. Within 20 miles north of the city are the Pine Valley Mountains with an elevation of 10,000 feet which offer a cool mountain retreat during the summer months.
Within easy driving distance of the St. George area are some of the finest scenery found in nature. Some of the world-renowned parks are the Bryce and Zion National Parks, the Grand Canyon, Snow Canyon State Park and Kolob Canyons. Also close by are the recreation spots of Lake Powell and Lake Mead.
The St. George Marathon, held the first Saturday in October is the nation's 13th largest marathon and serves as a qualifier for the Boston Marathon. The Huntsman World Senior Games offers athlete ages 50 and over the opportunity to compete in 17 world-class events over a two week period in October. Both events host more than 4,000 participants from all 50 states and many countries.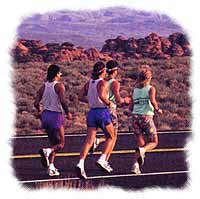 Accommodations
Bed & Breakfasts
Hotels
Motels
Education
National & State Parks, Campgrounds and Recreation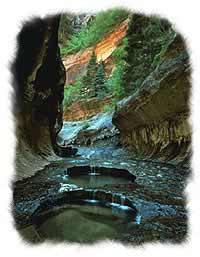 Golf Courses
Major Employers
Source: Utah Department of Workforce Services
Travel Agency
Travel & Tours, Airline Tickets, Vacation Club Payment Services
Rentals
Avis Rent A Car 435-634-3940
PRWest Vacation Condo Rentals
of Southern Utah 435-688-2525
Enterprise Rent-A-Car 435-634-1556
National Car Rental 435-673-5098
Quality Car Rental 435-634-0090
Thrifty Care Rental 435-674-2234
Airlines
Aero West Aviation Inc. 435-674-1000
Rivers Aviation Inc. 435-656-0610
SkyWest Airlines, Inc. 435-634-3000
Transportation
Auto Bus 435-628-2287
Quality Cab 435-656-5222
St. George Shuttle 435-628-8320
Interstate 15 connects St. George with Salt Lake City on the north (300 miles) and Las Vegas, Nevada on the south (120 miles). Interstate 70, accessible to Denver, joins I-15 about 125 miles north of St. George.
Miscellaneous
St. George Area Chamber of Commerce - 97 E St. George Blvd St. George UT - 435-628-1658 Fax 435-673-1587 E-mail hotspot@infowest.com Website www.stgeorgechamber.com or www.southern-utah.com
Southern Utah Home Builders Association - 321 N Mall DR #E-201 St. George UT - 435-674-1400 Fax 435-674-2866 E-mail suhba@suhba.com Website www.suhba.com
Dixie Regional Medical Center - 544 S 400 E St. George UT - 435-634-4000
Entrada at Snow Canyon Realty - Homesite information 435-656-5600 - Patio Home Information 435-652-9298 - Entrada Golf Reservations 435-674-7500
Senior Citizen's Center - 245 N 200 W St. George UT - 435-634-5716
Click here to learn more about Mortgage Loans







95 East Tabernacle, PO Box 579
St. George, Utah 84771
Phone: (435) 628-0433
Fax: (435) 628-5638